Comparison Guide of Debt Options for SaaS Companies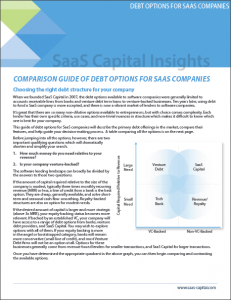 When we founded SaaS Capital in 2007, the debt options available to software companies were generally limited to accounts receivable lines from banks and venture debt term loans to venture-backed businesses. Ten years later, using debt to fund a SaaS company is more accepted, and there is now a vibrant market of lenders to software companies.
It's great that there are so many non-dilutive options available to entrepreneurs, but with choice comes complexity. Each lender has their own specific criteria, use cases, and non-trivial nuances in structure which makes it difficult to know which one is best for your company.
This guide of debt options for SaaS companies will describe the primary debt offerings in the market, compare their features, and help guide your decision-making process.
Files included in your download:
Comparison Guide of Debt Options for SaaS Companies (PDF)
Appendix to "Comparison Guide of Debt Options for SaaS Companies" – Examples (PDF)
White Paper: How to Value a SaaS Company (PDF)
Debt Structure Options Workbook (XLS)